By now you've probably realized that I love designing for creative, passionate entrepreneurs, so when I was presented with the opportunity to design a new logo for La Dolce Dough, I was thrilled!
All you have to do is take one look at these mouth-watering creations and you will want to crawl through your computer screen and ravish them.
La Dolce Dough specializes in creating one-of-a-kind, amazingly artistic desserts, cakes, and other culinary delights. Even better, Krista and her team use only the best, wholesome ingredients to make her delectables the old-fashioned way, a labor of love.
As you can see from the pictures, La Dolce Dough pays attention to every detail, making every one of their creations into a masterpiece. Krista wanted a logo design that reflected her elegant and modern style, her attention to detail, and had a touch of femininity but not too much whimsy. She's a very visual person, like me, so we worked through several iterations and color combinations to get her to a logo that she loved. We played around with different shapes and ideas and here are some of the favorites from the bunch.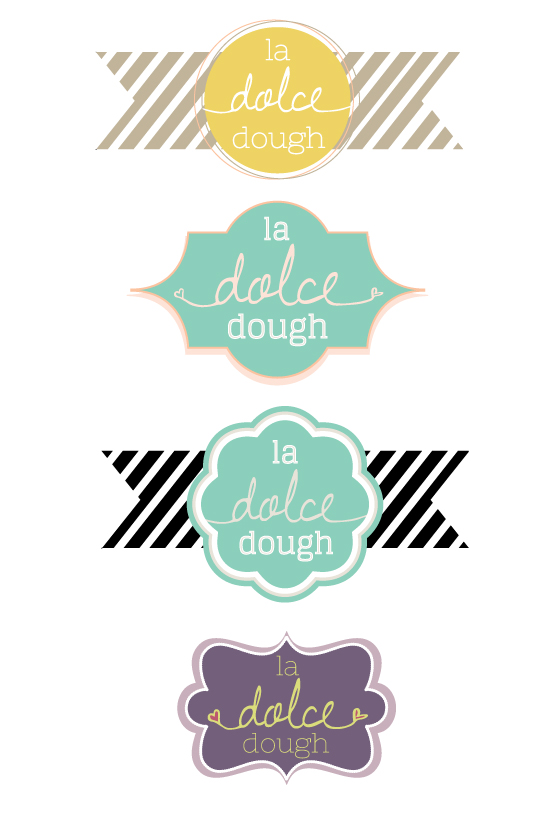 In the end, purple became the winning color and she chose a clean and simple shape that looks sophisticated and modern. The fonts express the creativity and precision of these masterful culinary creations.
And here's another piece of exciting news! La Dolce Dough is going to be making my dessert table at my wedding in Michigan! I don't know if I can wait that long after salivating over these pictures.