A lot has been going on in this little head of mine lately. It is well into the month and I still feel like magic is going to happen this year. It already is happening! All of this morning I worked on my secret project that involves patterns and am really getting somewhere with it. It's so fun, I can't wait to share what it is, but it's going to take some time to finish the design part and then have samples manufactured.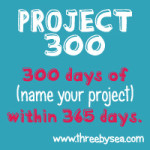 This morning I stopped by Oh My! Handmade Goodness and saw a guest post about the Project 300. Basically, it's a challenge to pick a project of your choosing to complete during 300 hundred of the 365 days this year. In the spirit of camaraderie and creation, I've decided do an extension of my art project, if you will, and challenge myself to create art for 300 of the 365 days this year! However, I'm going to leave that open to any type of art, not just mini's.
I want to push myself to improve my art and craft.
I'm not necessarily going to post every single thing I create, but I will post the best and give you updates on how I am doing with the challenge.
Want to join me? Do you have any specific project you've been wanting to accomplish and are needing a kick in the pants to get there? This could be the prefect way to do it. We can share our progress and hold each other accountable. Let me know in the comments or by e-mail if  you are planning on doing a 300 Days of Project. Stop by Oh My! Handmade Goodness or Three By Sea and fill them in on your project too!
And onto the art! The past two days I painted two little minis that I'm really happy with. they are whimsical and cute and have quite a bit of quirky detail for such little guys. Going into them, I actually had a completely different idea in mind and was going to paint more tea-cups. But the teacups really were not happening…at all. And so somehow that teacup morphed into an elephant. Funny how that happens.
On a side note, I was having great fun using a new white paint pen that I got to add detail, but unfortunately it broke. If any of you know of any high-quality paint pens, please let me know. Thanks!