It seems that yesterday was bubbling up with new beginnings and brilliant launches. It must be spring!
The other day I mentioned that the Oh My! Handmade Marketplace would be launching soon and yesterday was that day! This place is going to be the best resource for running your creative business! More and more businesses with a high-standard-of-awesomeness are listing their services and supplies to create a comprehensive source for nearly anything you could need. Check out the press release for more information:
Creative entrepreneurs rejoice! April 2nd Oh My! Handmade launched a new creative marketplace bringing together some of the best services and supplies for growing a creative business. Now entrepreneurs have a curated source for finding designers, illustrators, print shops, developers, on/offline events, programs and much more.

You can also find suppliers for creative, promotional, and packaging materials. Entrepreneurship is hard work and looking for the resources to grow a creative business can be exhausting. The Oh My! Marketplace is reinventing entrepreneurship by offering a community of knowledgable, experienced, and generally awesome folks to help creatives at every stage of the business journey. Collaborative and creative the friendly Oh My! Marketplace is waiting to welcome you!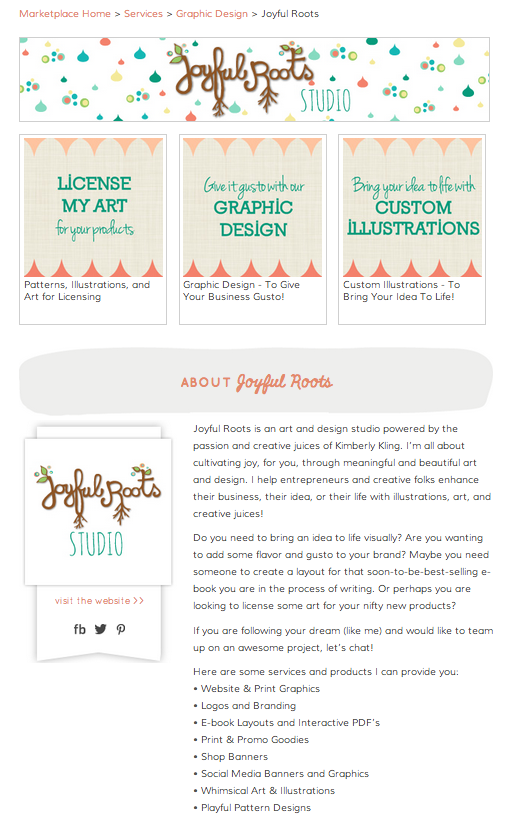 I'm very excited to be a part of this incredible marketplace! You can check out my vendor page here, where I am offering my graphic design, illustration, and art licensing services.
Oh My! Handmade is on a roll because yesterday was also the launch of their new shop. Goodies abound and are still coming. You can buy our books & guides, sign up to be an advertiser, or submit to join the marketplace here.
Another exciting launch that just happened is the Puttylabs which is part of the Puttylike group of sites. Puttylabs is an exciting new venture in online collaboration between a group of multipotentialites. Or in otherwords:
Puttylabs is the brainchild of Emilie Wapnick, who also founded Puttylike and The Puttytribe. After running the Puttytribe for a year, she began to realize what potential there was for collaboration among members. Her thought process went something like this: here we are, a community of people with random skills all over the place, who are insanely creative. We should be working together!

To test out the idea, Emilie started a discussion in the Puttytribe forums proposing that the group write and design an inspirational poster to help empower multipotentialites. Very quickly, the puttypeep began throwing out lines, and the text came together. After that, people submitted their designs and we voted on the winner. You can check out the result of this first experiment here.

This print is only the beginning. We are not sure what will come out of this project, but most likely it will result in some really original, cross-disciplinary work.
I was thrilled to be a part of the collaboration for the print and to help with the graphic design. Since graphic design is something that would be quite challenging to work on simultaneously, Emily ran the collaboration as a vote. Four of us used the words to create a poster, and one was chosen for the final product. I was happy to have mine chosen because I like to think that I made something everyone really enjoys!


You can actually purchase the poster here and 25% of the procedes are going to a great organization: 826 National. The rest of the profits will be split between the artists, given us a little help at earning some income.
Do you have some big news to share? New launches in your life? Maybe some spring cleaning? I'd love to hear what you have going on in the comments.