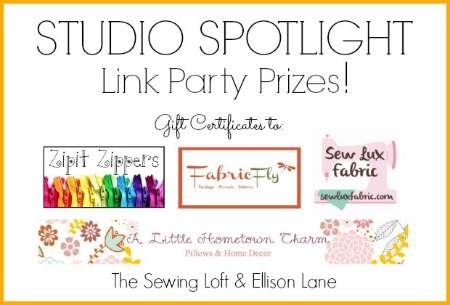 This whole week at The Sewing Loft, they have been hosting a studio spotlight tour showcasing the creative spaces of different designers. Today, they have asked everyone to join in by sharing their spaces in a link party!
I thought it would be fun to give you a little sneak peak into my creative space. It's not much…my office is in my bedroom. However, while dreaming and drooling over the spaces of other creative professionals, it gives me ideas and inspires me to get to the point where I can have my very own studio some day. For now, at least I'm lucky to have a big bedroom and a nice computer. 🙂
I'm also sorry about the lighting. Our house stays pretty dim, which can be good for energy efficiency in this hot climate, but not so great for pictures.
Take a look into my space…
Oh yeah, did I mention there are prizes involved? The Sewing Loft and Ellis Lane will be giving away some nice gifts to some random entries of the Studio Spotlight Link Up! I hope you will join in because I would love to to see where you spend  your creative time.