I'm taking a break from my regularly scheduled Hue-ahaulic series to share some big news with you, friends! You may have heard some little birds chirping about a handsome bearded man, the lumberjack, who is the star player in a collaboration I am doing with Jenelle of TrashN2Tees. If you haven't, I'll fill you in.
Meet Mr. Lumberjack…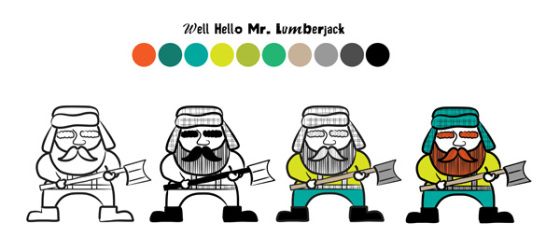 He's handsome, he's rugged, he's got a fine beard and a sharp ax. He's stylish too. He's winning hearts all over the place.
Jenelle and I have put together a whole line of lumberjack clothing, fabric, and even a DIY Cut & Sew Lumberjack kit. Our official product launch will be on September 17th, at which point we will be releasing our full line of lumberjack products! So stay tuned.
Right now, you can get a few limited edition items during our Pre-Sale! For a short time, I'm offering a curated fat quarter bundle of my original fabric in my shop that includes a limited edition teal and lime plaid fabric. It's a pretty radical color combination that won't be offered in the bundle after we launch.
The fabric would be perfect for your own creations, like a unique fall/winter quilt, lumberjack hats (Jenelle will be posting tutorial on how to sew a lumberjack hat in the near future), scarves, pants, skirts…whatever you can dream up. I have plans to use it on some cute little purses and pouches.
TrashN2Tees is offering some adorable first run lumberjack tees that are screen-printed and appliqued with fabric that was diverted from our waste stream. Fun fact: Jenelle has already saved 32 tons of clothing/textiles from being thrown away! These tees are hand cut, sustainable, and one-of-a-kind!
The fabric and the t-shirts have already debuted in the New York City Time Square Ecofest Fashion Show! But we've got other big plans, including a giveaway of this limited edition bundle at The Sewing Loft starting September 22nd because it's National Sewing Month.
I will also be taking custom orders for yardage of fabric in the Kona Cotton as well as other luxurious fabrics like an organic cotton knit, a richly colored performance knit, micro twill, even cotton silk!
Wanna read a little more about this collaborative project? Check out Jenelle's blog post – TrashN2Tees: Counting Down The Days

Oxes, axes, and big old beards…more goodness is in the works and I will keep you posted of future lumberjack happenings!