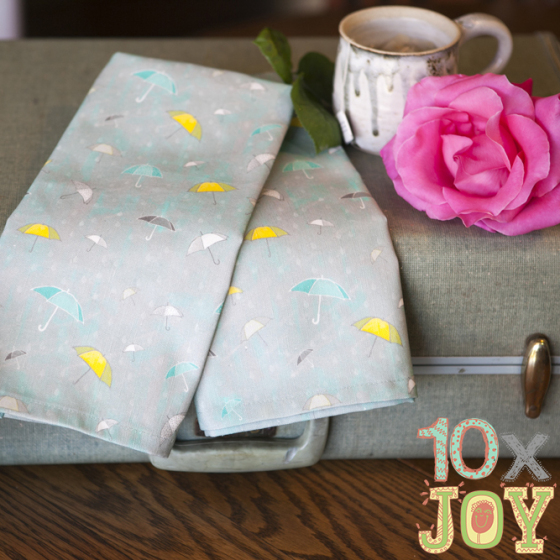 Spring is here and so is April's 10xJOY project! Are you as excited as I am? 😉  I hope that by now you are being drenched in Spring and all of the beauty that comes with it! Spring is my most favorite time of year and so I'm relishing in the flowers, the sunshine, and even the rain.
Here in Arizona, I often dream of the kind of spring showers we used to get back in the Midwest, with big puffy clouds and crisp air. We have quite a few flowers blooming around here, but that feeling of nostalgia for a northern spring is what inspired this month's project.
Introducing…Umbrella Tea Towels made with my "Kind of Wish I Was Mary Poppins" original pattern printed on Spoonflower's super gorgeous cotton linen fabric. This month, I have been putting a lot of love into the perfect spring handmade goodie. These would make a unique housewarming or party gift, or maybe you just want to spoil yourself with something that is only 10 of a kind. Today these are available in my shop as a limited edition item. Once they are gone, they are gone-a-roo!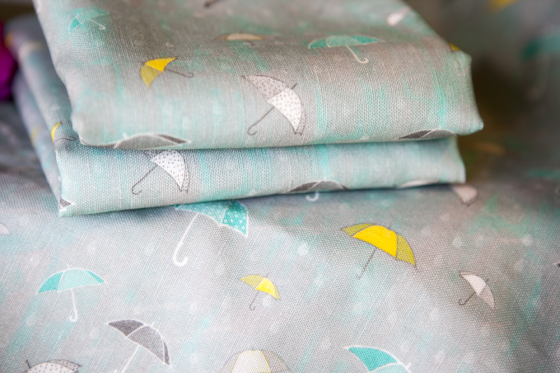 If you haven't signed up for my mailing list, now I'm offering subscribers the ability to PRE-ORDER any of my 10xJOY items. So, if you want to be updated, don't forget to sign up for my mailing list by entering your info on the form at the right of the blog.
If you've been following along, then you know I will be donating 10% of the profits from 10xJOY to Pencils of Promise! What's exciting is "at this moment, PoP has officially broken ground on its 300th school! To date, [they've] built 300 schools across 3 continents in 4 different countries. Each and every one of [their] schools in Ghana, Guatemala, Nicaragua and Laos is fully operational and educates students daily."
Don't miss the giveaway today on Instagram! I made a couple of extra tea towels this month so that I could make sure that I'm selling the best ten. I'm keeping one for myself today you have the chance to win the other "project side-kick" (it has small imperfections that are barely noticeable and would still look so dang good in your kitchen). Find the giveaway on my Instagram @joyfulroots.
Thanks so much for being apart of the 10xJOY journey!