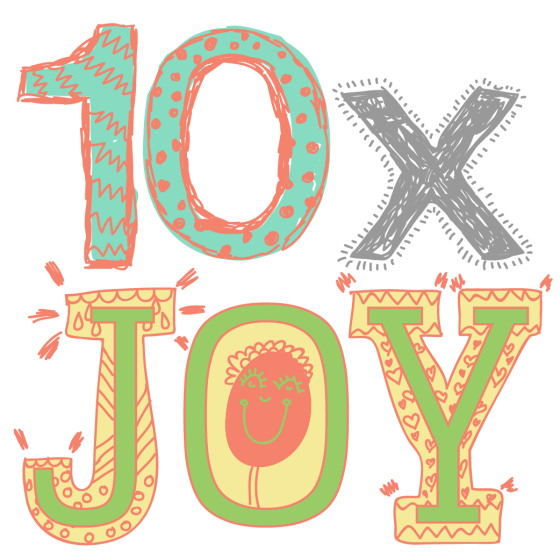 I have something really big to announce!
This year has been all about organization and with that at the forefront of my mind, I've started a new monthly project called 10 x Joy. That's ten times the Joy! My heart is swollen with creative ideas, and I've realized that sometimes I have too many floating around to act upon them in a productive way.  Not only is this project going to help me solve this creative dilemma, it will give you access to ten unique and limited edition creations each month, starting in March! That means I'll be sharing more of my joy  of creation with you!
Here's the low down. Each month of this year, starting in March, I'm going to create 10 items of something (think baby shoes, notebooks, mini paintings, tea towels, etc). The items will either be handmade by me, or they will be a collaboration between myself and another maker friend. So for the next 10 months, I will release 10 items totaling in 100 items for the rest of the year. These goodies will be sold first come first serve…BUT anyone on my e-mail list will have the first peek at what's available. After that, they will go for sale in my Etsy shop.  Bonus! At the end of the year, I'm going to donate 10 percent of the profits to a specific charity (to be announced later)! Heck yeah.
Each month's product will be announced on the 25th of the month to my subscribers and then the items will be made available in my shop on the 28th of each month. Don't forget to sign up for my newsletter here to stay posted! Also, I will be offering sneak peeks of my projects on Instagram throughout the month, so come follow along and join the fun.
This project was inspired by the Elise Joy's Make 29 project which is really brilliant and you should check it out as well.
Would you like to help me spread the word? Here's a tweetable. Tweet: @JoyfulRoots is cultivating 10 times the joy with her new #10xJOY project! Find out more at http://ctt.ec/9G1eH+
Stay tuned for more updates folks!