Herbal Visions
In-person customized wellness sessions
at Visions in Bisbee
Herbal Visions One-to-One Consult
Come see me for a potent and effective 30-45 minute herbal consultation at Visions in Bisbee. I'll help you tune into your wellness needs with more accurate vision. We will discuss what you are needing support with and your health goals. Then you will receive recommendations for remedies in the shop or beyond. We may also discuss healthy daily routines that you can incorporate and recommendations for additional support.**
Some topics that we can address are: building up your natural resilience against stress, getting more nourishing sleep, improving your mood and energy levels, supporting your different organ systems, improving your skin, finding emotional support through the plants, and amplifying your rituals and practices.
We will sit together in a cozy and serene semi-private nook that is off to the side of the shop. If you need extra privacy for anything in particular, we can briefly chat on the phone ahead of time as well. These sessions are shorter and less intensive than my Tend Your Roots Package. If you are needing in-depth coaching for a health concern, I recommend booking one of those sessions instead (more info above).
Please be advised that this is for empowering educational purposes only and does not constitute medical advice. Anything we discuss is not intended to treat, cure, diagnose, or replace your existing medical care. If you are on any medications or pregnant, please also discuss any new herbs used internally with your healthcare team. I am an herbalist and NOT a doctor, and I am here to guide you to more clarity. Your health is always in your hands! Listen to your body – you know what is best for you.
Sliding Scale Suggested Donation – $15 to $45 per session (not including herbs). Please provide 24 hour notice for cancellations. Thanks!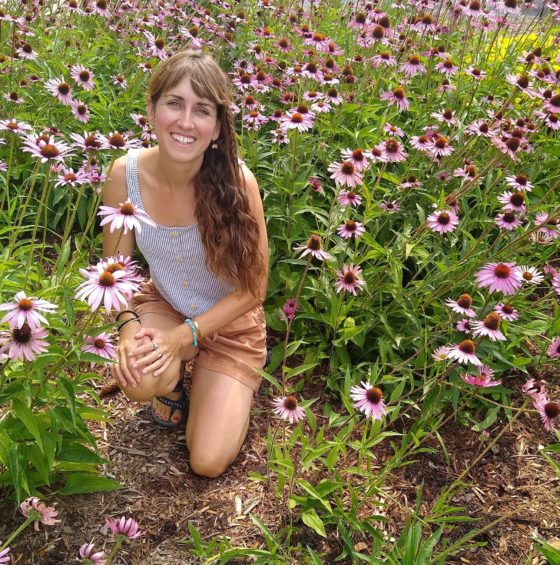 Hi, I'm Kimberly. Are you ready to dig deep and learn ways to strengthen your roots of wellness for greater resilience and well-being? Whether you are looking for ways to vitalize your life, ready to incorporate a more aligned approach for managing chronic illness, or hoping to amplify your existing wellness strategies, I would love to be your guide.
I take a Vitalist and Wise Woman approach to your wellness needs. This means I look at you as a whole person who is interconnected with the web of life, not just the symptoms or disease (dis-ease = lack of ease) you are experiencing. I believe that our bodies have a vital intelligence that desires to heal, always. Together we can support your body's desire for harmony and balance through the 8 Roots of Joy. This includes herbs, but just as importantly – nutrition, pleasure, rest, lifestyle habits, and more.
What is Herbalism?
Herbalism is the art and science of using herbs to enhance health and/or prevent illness. Humans have evolved alongside plants and used herbs as their primary form of medicine since the beginning of time.  Herbalism is still the primary form of medicine used throughout much of the world and has a written history of more than 5000 years in ancient medical texts from Greece, China, India, and beyond. Even though modern medicine today has overshadowed human's deep relationship with herbs in some ways, herbs are still an effective and powerful way of enhancing health.
Why herbs?
What's amazing about working with plants for wellness is that unlike pills created in labs, plants are alive and have evolved alongside us for thousands and thousands of years. This means our bodies are uniquely adapted to utilizing and assimilating herbs. Generally, this means herbs have less side effects than Western medicine. Just as Western medicine has a time and place, so does the medicine from the living world around us. Because herbs are so complex and contain many different chemical constituents, one herb can offer a wide range of benefits. For example, an herb like peppermint can benefit digestion, stimulate the senses, cool or warm the body, relieve congestion, and alleviate a headache. Herbs offer beautiful complimentary support to more traditional medicine models and can also stand alone in their capacity to support the body.
Why work with an herbalist?
Herbalists who practice a Vitalist tradition, like me, are trained to focus on people as whole individuals irrespective of the disease or condition they have. I believe that we each possess inner healing power. My role as an herbalist is not to "fix" you, but rather to guide you in unlocking your own healing through the use of holistic interventions like herbs, diet, and lifestyle modifications. Together we will:
Talk about factors which may be preventing your body from healing
Discuss your body's natural healing potential
Discuss empowering lifestyle modifications and habits
If you are committing to working on your Roots of joy together, let's chat! **
"Nourishing yourself in a way that helps you blossom in the direction you want to go is attainable, and you are worth the effort" ~Deborah Day
"Wisdom is nothing more than healed pain." ~Robert Gary Lee
"Health is a large word. It embraces not the body only, but the mind and spirit as well; and not today's pain or pleasure alone, but the whole being and outlook of a man." ~ James H. West
"By understanding how vitalism extends into every corner of your life, you can make choices that energize you and fill you with vitality." ~Sajah Popham
**Disclaimer: Please remember, I am an herbalist and NOT a doctor. Anything we discuss is not intended to treat, cure, diagnose, or replace your existing medical care. The information provided is for empowering educational purposes. Your health is in your hands! Listen to your body; you know what is best for you.